"From Diagnosis to Repair - Maintenance Questions That Matter"
Webinar Wednesday - Multifamily Insiders
---
Wednesday, March 10, 2021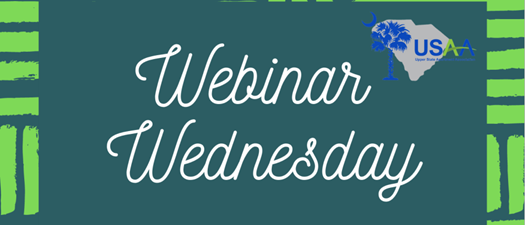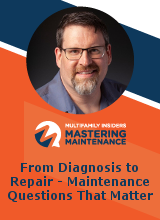 Wouldn't it be great to receive an answer when we ask the toilet "Why are you not flushing correctly?"
Or for that matter; When the service request states that the AC is broken, how awesome would it be to be able to ask the thermostat "Why is the temperature in the apartment so high"? and receive an audible answer.
Possibly the most important skill for an apartment maintenance technician is knowing how to ask questions. Far too often a technician goes into a situation with incomplete information. Not knowing the questions to ask prevents a clear course of action to be taken and can result in lost time, broken parts, and repeated visits to make a repair.
This session will focus on more than just the verbal methods for creating a query. We will move away from the madness of being vague, taking guesses and go past the statement "I sure hope this works". By adapting 4 or 5 simple questions, many problems can be diagnosed, and a repair formulated. Most importantly, the right questions up front can decrease overall repair time as well as eliminating return visits.
Think of this session like the game show "Jeopardy". The answer does matter; the QUESTION matters MORE…
By attending this webinar, on-site personnel will be able to:
Identify the difference between a "symptom" and a "true failure"
Decrease call backs and incorrect repairs caused by fixing the wrong item
Communicate more accurately
Diagnose effectively using fewer parts
Join Paul Rhodes and the Webinar Wednesday Team on March 10, 2021 at 2pm Eastern Time to Ask The Right Questions!
About Paul Rhodes:
Paul has been melding customer service and problem solving his entire career. His history includes teaching First Aid and CPR for the Red Cross, and training Store managers for a small bookstore chain. He has spent the past 26 years working in the apartment industry. Starting as a Grounds Technician and moving through positions that include Pool Remodeling Technician and Maintenance Supervisor, Paul's combined love of talking and providing answers found him leading a team of National Trainers for a supplier and eventually becoming the National Instructor for the National Apartment Association Education Institute. After 15 years of travel, providing maintenance related information to thousands, Paul has returned to leading on-site teams as the Director of Maintenance for The Life Properties.