USAA 34th Annual Trade Show--Booth Sales
Purchase your trade show booths now!
---
Tuesday, October 23, 2018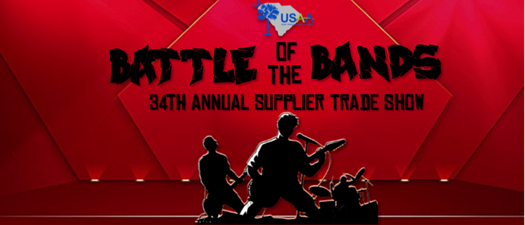 USAA 2018 Annual Supplier Trade Show will be held again this year at Greenville Convention Center, One Exposition Drive, Greenville, SC 29607. We will be located in the Conference Center on the Main Level. We have 50,000 square feet of space with a drive in loading dock and plenty of room to network. This is a highly anticipated event. Please make your booth selection (s) and complete your purchase AT THE SAME TIME. Booth assignment is on a first come, first serve basis with USAA Diamond & Platinum Sponsors having 72 hours to place their orders before information is distributed to remaining supplier members.
Trade Show Theme: Battle of the Bands
Booth Selection: Each booth is 8' X 10' pipe and drape and includes a 6' table, 2 chairs, wastebasket and printed company sign. Please see attached floorplan for pricing. Price includes 2 attendees. $35 per each additional booth attendee. To enlarge your trade show floor space, you may purchase 2 booths. Suppliers selecting a double booth will receive a $100 discount off total amount due. Electricity may be provided for an additional $75 fee and must be requested in advance. Exhibit pipe and drape colors are black and white.
Eligibility, Payment and Cancellation: Upon making your selections an invoice will generate immediately. You may continue your process by paying at this time or you may log back in to pay at a later date. You may forward your invoice to your accounting department for payment. All trade show registrations and past due balances must be paid by October 15, 2018. Only Supplier Associate members of USAA in good standing may exhibit. Only exhibiting Supplier Associate members may be present at the trade show. No booth sharing. Exhibitors may cancel and receive a 75% refund of paid fees if cancelled prior to Tuesday, October 2, 2018 at 5pm. After Tuesday, October 2, 2018 all cancellations and no shows will be responsible for booth fees as invoiced and forfeit the right to any refund amount.
Installation and Removal of Exhibits: Exhibits may be set up between the hours of 12 pm and 4pm on the day of the show. You will receive your set up time assignment no later than 2 weeks before the show. The venue space will be not available for set up prior to 12 pm. Exhibits must be dismantled immediately following the show. Please, no dismantling during show hours.
Exhibit Limitations: Exhibitors shall not display any product, sign, partition or other construction which extends more than 7 feet above the floor. Exhibits of a nature that obstruct the view or interfere with the displays of other exhibitors or which because of noise or any other reason become objectionable may be required to be modified or removed at the discretion of USAA. Music, lights, video or any other equipment shall be operated only at a level which will not interfere with other exhibitors. If you are unsure whether your display will meet these qualifications, please contact USAA staff to discuss prior to the show.
General Rules: No food or beverages of any kind shall be provided by exhibitors at their booth. Venue staff will ask you to remove any unapproved food or beverages. No helium balloons. The use of flammable substances is prohibited.
By reserving space, you agree to abide by the terms outlined above.
Download Your Tradeshow Exhibitors Kit Here
Please view the Trade Show Floor Plan below. Each submission will be dated and time stamped. They are on a first come first serve basis.
Booth pricing: Blue Booth: $600 each or $1100 for double booth. Red Booth: $500 each or $900 for double booth.
For More Information: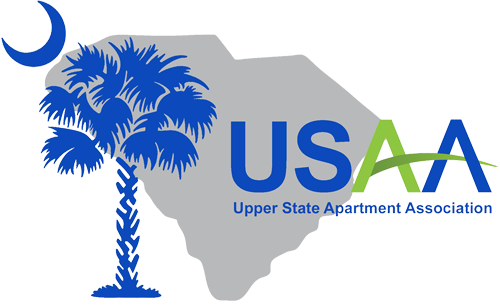 33 Villa Road Suite 101
Greenville, South Carolina 29615
United States
864.242.0200